THE NEW JERSEY STRIPED BASS HALL OF FAME
Welcome to the official headquarters of the N.J. Striped Bass Hall of Fame. This organization was established in 2004 to identify and single out individuals who have consistently excelled at catching trophy sized striped bass from the ocean and inland salt waters of New Jersey.
The current membership includes many of the most productive bass fishermen over the past half century and remains open to all land based striper fishermen. The requirements for membership, however, were intentionally made very challenging in order to insure that only serious, dedicated "Bass Hounds" could eventually qualify.
Membership Requirements:
The minimum requirements for inclusion into the Hall of Fame is two (2) points
Each 50+ pound bass = 1 point

Three or more 40+ pound bass = 1 point

Ten or more 30+ pound bass = 1 point
That is, catch (2) 50+ pound fish and you're in. Or, (1) 50+ pound fish and (3) 40+ pound fish. Or, (3) 40+ pound fish and (10) 30+ pound fish. Or, (1) 50+ pound fish and (10) 30+ pound fish.
All fish must be caught shore based (no boat fish) and must be from New Jersey waters. Anyone who believes they meet the minimum criteria and wishes to be considered for induction into this Hall of Fame needs to have their catches authenticated by a recognized Fishing Club or tackle shop. As an alternative, your proof such as photos, newspaper articles, log books, etc. will be reviewed by a committee of existing members.
The members of this Hall of Fame want very badly to be inclusive of the entire state. A review of the attached memberships list clearly shows that many outstanding fishermen from south of Barnegat inlet have not yet been identified and included.
Questions regarding the New Jersey Striped Bass Hall of Fame should be directed to Larry Casparro at (732) 988-0348.
The Hall of Fame is proud to honor the 2009 inductees, including the reigning IGFA all tackle world record holder, Albert McReynolds; the locally well known author, lecturer and surf guide, Shell E. Caris; the relatively young, but very accomplished standout, Tony Melo; and the seasoned pro, Stan Duziuba.
NEW JERSEY STRIPED BASS HALL OF FAME
| | | |
| --- | --- | --- |
| NAME | HOME TOWN | CLUB AFFILIATION |
| ABBELLA, BUD | ALLENHURST | APFC |
| ALFONSO, LOU | WHITING | BSC |
| ALPERT, MICKEY | BRICK | SLL |
| BELL, RICKY | ALDAN, PA | SRA |
| BERTSCH, BILL | OCEAN | APFC |
| BIEDINGER, BRIAN | TINTON FALLS | SRA/APFC |
| BOGUE, FRED | MEDFORD | BSC |
| BONANNI, DAVE | MERCERVILLE | SCA |
| BORD, RICH | SCRANTON, PA | |
| BOTTINO, BOB | BRICK | VARIOUS |
| BREZNEY, DON | FLEMINGTON | APFC |
| BUSHELL, NICK | PERTH AMBOY | |
| *CARIS, SHELL E. | TOMS RIVER | BSC |
| CARR, WADE (LEFTY) | FREEHOLD | APFC |
| CASPARRO, LARRY | BRADLEY BEACH | APFC |
| CATERINO, JOE | HAZLET | SRA |
| CECERO, JIM | MIDDLETOWN | |
| CIMINI, FRANK | NORRISTOWN, PA | SRA |
| COUSINS, JIM | SEA BRIGHT | APFC |
| DANIK, BOB | CLIFTON | APFC |
| *DUZIUBA, STAN | LONG BRANCH | |
| FERGUS, TOM | SPRING LAKE | |
| FRITZ, FRANK | ASBURY PARK | |
| GABRIEL, RICH | TOMS RIVER | BSC |
| GALESSETTI, AL | SPRING LAKE | SLL |
| GARDNER, FRED | BELMAR | SRA |
| GIGLIO, ARMOUND | LONG BRANCH | |
| GORSKI, ED | BELFORD | APFC |
| GRANDE, JOE SR. | LONG BRANCH | |
| HAERTEL, PAUL | CLIFTON | BSC |
| HOLWITZ, MIKE | FARMINGDALE | APFC/SLL |
| HUETH, RICHARD | SPRING LAKE | |
| JOHNSON, BUD | SPRING LAKE | APFC |
| KOZIC, JOE | NAVISINK | APFC |
| KINGSLAND, HERB | ELBERON | APFC |
| KRENCICKI, CHET | MERCHANTVILLE | BSC |
| LACH, HANK | NEPTUNE | APFC |
| LAMBI, JIM | SOUTH BELMAR | APFC/SLL |
| MALANGA, GERRY | WALL | SLL |
| MARTELLI, ANTHONY | WANAMASSA | APFC |
| MARTENS, MEL | NEPTUNE | APFC |
| MATTHEWS, BOB | MANASQUAN | SLL |
| McFADDEN, BILL | OCEAN GROVE | APFC |
| *McREYNOLDS, ALBERT | ATLANTIC CITY | |
| *MELO, TONY | W. LONG BRANCH | APFC |
| MUSIAL, BOB | WHITING | |
| PALLOTTO, JOE | ASBURY PARK | APFC |
| PASTOR, BOB | OCEANPORT | |
| PETILLO, FRANK | MIDDLETOWN | |
| RIEDINGER, GERRY | BRICK | APFC |
| RUSSO, KEN | MIDDLETOWN | |
| RUSSO, YINKY | LONG BRANCH | |
| SMITH, RAY | LACEY TOWNSHIP | BSC |
| SOYKA, RAY | ROSELLE | APFC |
| TOMIC, JOE | LONG BRANCH | |
| VAN DE SANDE, JERRY | NEPTUNE | SLL |
| WEST, BILL | LONG BRANCH | MBCT |
* INDICATES 2009 INDUCTEES
APFC = ASBURY PARK FISHING CLUB
SLL = SPRING LAKE LIVELINERS
SRA = SHARK RIVER ANGLERS
BSC = BERKELEY STRIPER CLUB
SCA = SURF CITY ANGLERS
MBCT = MONMOUTH BEACH CAR TOPPERS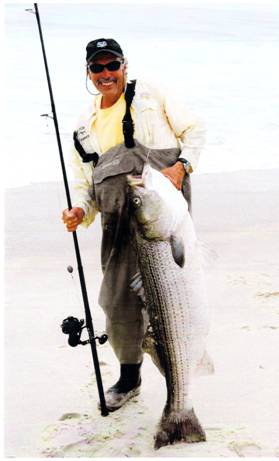 Shell E. Caris with his 51 lb. 12 oz. beauty caught this season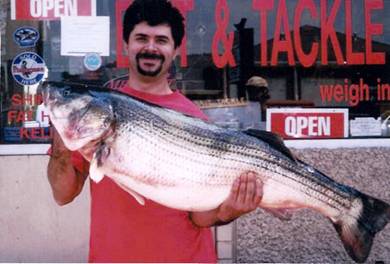 Tony Melo with a giant 57 lb. bass from 2003